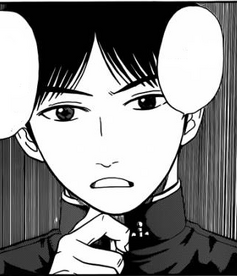 Doumoto Hitoshi
(秋庭仁,
Akiba Hitoshi
)also known as Jin. He is also a person who has awakened his Divine Gift.
Appearance
Edit
Doumoto is a average hieght person with black hair that splits in the middle. He has thinks eyebrows and dark colored eyes. He wears a black school uniformwhich constist of a black jacket and black pants.
In his monster form, his skin becomes darker and he become more musciler. His face become hideous.
Personality
Edit
Doumoto is a person who wants to find a girl who is cheerful, energetic, healthy and who won't fool around with other guys. Doumoto also thinks that he is beautiful even his monster form. He also has a liking for female blood.
Hitoshi had taken up box and then heard about the Yamada brother.
Introduction Arc
Edit
The night before Hitoshi fully appears, He had killed a girl and then wondered what was the power that he had.
The next day, Hitoshi was hitting on a girl from St. Erect's Girl Academy. He then tries to take her somewhere to sit, but they are stopped by her boyfriend (Kaneda). While Kaneda tells him that she is his girl, Hitoshi tells him that she has the right to talk with whoever she wants and that ever guy has the right to get the girl. Hitoshi is then taken to Kaneda hang out to get injured. Hitoshi then counts 10 people and says that he can handle them. Kaneda then tries to punch him but Hitoshi catches his wrist. He then drains Kaneda's blood and kills him. Hitoshi then enlarges his body and begins to kill then rest. After finishing the rest, the girl calls him a monster. Hitoshi tell her that he is beautiful and then kills her. He then starts to look for a girl who is cheerful, energetic, heathly, and who won't fool around with other guys. he then spots Mizuho. He then follows her to his family's hospital.
Hitoshi then appears next to Mizuho while see was filling a vase with water. He asks her if she is visiting someone, which she tell him that she is. When she asks if he is visiting someone but he says that his family is the owner of the hospital. He then tells her that he had was saw her outside but coudn't approach her. But when she appeared before him, that it might be fate which he didn't believe in. When she tells him that she has to go, he tries to get her to got on a date with him. She then tells him that she doesn't appreciate guys hitting on her, he gets a nose bleed and calls her hot. He then tries even harder to get her to go on a date with him. He then grabs her and says that he won't give up unless she gives himone chance. Yamato then grabs his hand and free Mizuho. He then reconizes him as one of the Yamada Brother. He then tells Yamato to he got into boxing and that he had heard about his brother and that you need strength to get what you want.
He then says that if he is going to face one of the Yamada Brothers then he has to prepare and then enlarges his arm by draining someone of their blood. He then attacks Yamato and pushes him back into a wall. When Yamato gets back up and punches him into the walls Hitoshi realizes that he will need more strength and notices the blood bank. After draining the bank of blood, he return to fight. When Mizuho calls him a monster, he telsl her that he is not a monster but a superman and that he will drink her blood. He and Yamato the start to fight again. He then rush at Yamato and launches an attack, which leaves hole. When Yamato attacks, Hitoshi blocks it but it truely doesn't do nothing. Hitoshi then launches a barrage of attacks but Yamato dodges them all. Yamato then catches his next attack instead of it hitting Mizuho. Hitsohi then tells him that when he wills Yamato and then drinks Mizuho's blood. Yamato then jumps on Hitoshi and delivers a uppercut to his chin. Hitoshi is knocked unconscious with his head stuck in the ceilling. Later Kikuchi reveal to Yamato that he had put Hitoshi in a book.
Abilities
Edit
Doumoto is a person who has a Divine Gift. Any other skills that he may have is currently unknown
Divine Gift
Edit
The Swollen God
Edit
Doumoto has the ability to drain a person of their blood and mummify them. He can also change his body into a more muscler build. This form also has the ability to absorb blows because of the liquid the user absorbs.
Bullet Hole Punch: A punch that leaves a hole after contact.