Takachiho Heights Academy
(高千穂高さアカデミー,
Takachihodakasaakademii
) is the tha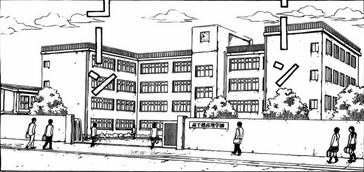 t
Yamato
attends.
The students of Takachiho Hieghts Academy where a dark colored jacket with a T on the left chest, a black tie with white slanted striped, a button down long sleeve shirt, and black pants. The girls wear that the same outfit but with a black and white checkered skirt.
The jerseys they wear is a dark colored jacket with a T on the left chest and two white line running from the shoulder down the arms. The pants are also dark colored and also has two white line running down the legs.
Takachiho Heights Academy is a four story build. It has a clock on the roof that is in the middle of the school. This is also a fence around the roof so student may head up their. their is also a cement fence that surrounds that school with a metal gate and a sign that reads Takachiho Heights Academy.
The school has a baseball field that the students us for PE.
Ad blocker interference detected!
Wikia is a free-to-use site that makes money from advertising. We have a modified experience for viewers using ad blockers

Wikia is not accessible if you've made further modifications. Remove the custom ad blocker rule(s) and the page will load as expected.